Bar & Cabinet Shutters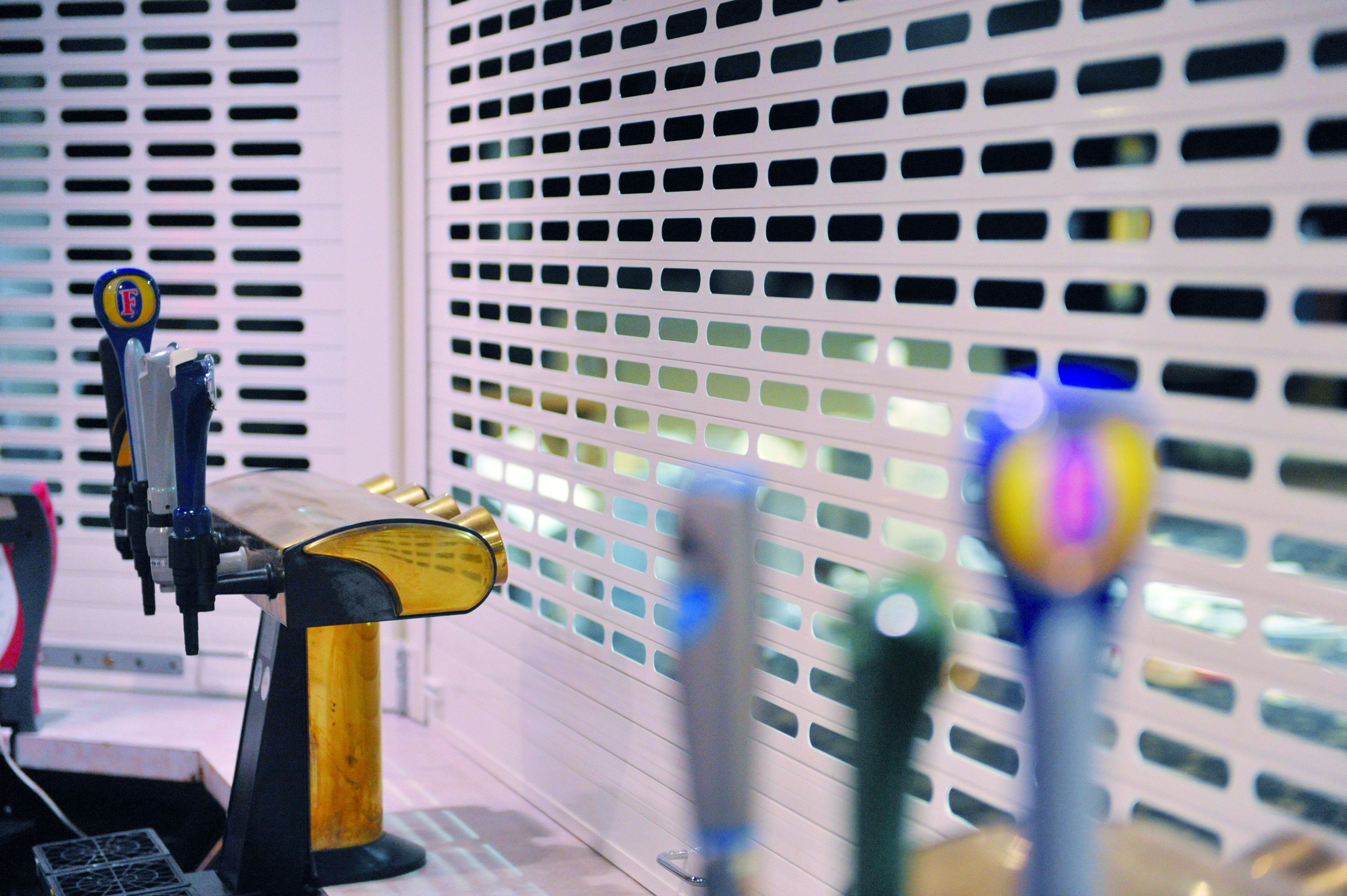 Managing a bar which forms part of a larger complex or property which can be accessed when the bar is closed requires specialist security arrangements – preventing unauthorised access to both the products and merchandise on display as well as the cash register and any other valuables. Commercial kitchen canteens and cafeterias often require a way to effectively secure the staff area, preventing access being gained by members of the public when the kitchen isn't open and serving food. In addition, some establishments prefer to close the canteen entirely including the public seating areas, making floor to ceiling shutters the best option.
Smart Reliable and Secure
The most popular option for effective bar security is through the installation of bar security shutters, which provide a smart reliable and secure way to prevent access when a bar isn't manned or open for business. As part of our service offering, we can supply a range of bar shutters for all applications so contact us today for an overview of your options.
Let us do the quote for you - Call 0800 633 5736
The bar and kitchen shutters we supply are designed to be as attractive as possible, whilst still providing the upmost in security. All of our shutter options can therefore be customised as required, alleviating the need for you to compromise on the appearance of your establishment in the quest for increased security. To discuss your options for the security of your bar or commercial kitchen, call us today, start the chat or send us an email with your enquiry. From there, we will be able to provide you with the best solution for your business as well as a quotation for installation anywhere within the United Kingdom.
Bar & Cabinet Shutters | 3800 Swivel Belt -

Product Code: 3800 Swivel Belt

Bar & Cabinet Shutters | 3800 Rod Crank -

Product Code: 3800 Rod Crank

Bar & Cabinet Shutters | 3800 Manual -

Product Code: 3800 Manual

Bar & Cabinet Shutters | 9000 Manual -

Product Code: 9000 Manual

Bar & Cabinet Shutters | 6000 Manual -

Product Code: 6000 Manual

Bar & Cabinet Shutters | PLASTIC Link Grille Manual -

Product Code: Plastic Link Grille Manual

Bar & Cabinet Shutters | Tube & Link Manual -

Product Code: Tube & Link Manual

Bar & Cabinet Shutters | 3800 Electric -

Product Code: 3800 Electric

Bar & Cabinet Shutters | Tube & Link Electric -

Product Code: Tube & Link Electric

Bar & Cabinet Shutters | 6000 Electric -

Product Code: 6000 Electric

Bar & Cabinet Shutters | 8000 Electric -

Product Code: 8000 Electric

Bar & Cabinet Shutters | 9000 Electric -

Product Code: 9000 Electric