Shutter Repairs & Maintenance Services
Full Service starting at £84.00
Keep Compliant Call Free on: 0800 633 5736
Regular maintenance on shutters and doors is a legal requirement as failure to show evidence of maintenance could mean prohibition & enforcement notices being served and fines up to £5000 and imprisonment for 2 years. 'Safety in Use' the New European CEN Standards legislation states that all types of doors should be maintained in an efficient state, in efficient working order and in good repair. For further clarification visit www.dhfonline.org.uk
Professional Roller Shutter and Door Repairs
Roller shutters and doors are susceptible to wear and tear, just like any other mechanical component. If a set of roller shutters aren't maintained properly, you are more likely to experience a failure or fault which requires the attention of a roller shutter repair specialist to replace worn out parts as required.
We offer a comprehensive shutter repair service, returning your roller shutters and doors to full working order in the event of a breakdown or malfunction. To book your shutters in for repair, call us today and we'll provide you with a quotation for the dispatch of a roller shutter engineer to your location.
Scheduled Shutter Maintenance
It is a legal requirement to satisfactorily maintain all doors which are located on a commercial premise, ensuring that they are safe to use and don't pose a hazard to health. Failure to do so could see you levied with a fine in addition to more serious legal action in the event that any doors on your premises fail the "Safety in Use" legal requirements.
To reduce the likelihood of experiencing unforeseen breakdowns as well as a variety of problems, we recommend booking a shutter service which will provide your roller shutters with the maintenance they require. The frequency of your shutters maintenance requirements will be based upon their usage profile so call us for more information and we'll be able to advise based upon your unique circumstances.
Arrow Security Shutters Ltd: Providing Roller Shutter Repairs in the UK
Our roller shutter maintenance packages can be customised to suit your needs with a discount available if you have several shutters located on your property. Simply provide us with the details of the shutters installed throughout your premises and we'll provide you with a personalised quotation.
For more information relating to roller door repairs or to book your shutters in for a planned maintenance programme, call us today to speak to a member of our sales team. We operate out of several locations, allowing us to serve your needs as a business wherever you are located in the United Kingdom.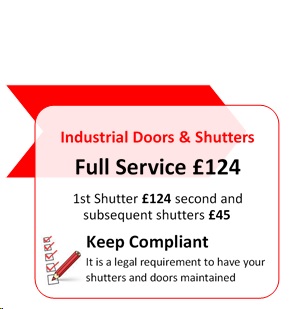 Keep Compliant Call Free on: 0800 633 5736
Your comprehensive service includes...
Inspect general condition of roller shutter for obvious defects before operation
Check curtain laths for excessive wear or damage. Check lath end-locks are secure, correctly positioned and undamaged
Check wind end-locks are secure, correctly positioned and undamaged. Check curtain is securely attached to barrel
Check bottom lath/T-rail for wear or damage
Check guide channel angle fixings to building structure are secure
Check guide channel fixings to guide channel angle are secure and not causing obstruction to curtain
Check condition of guide channels. Lubricate with a light oil guide channels if necessary
Check guide tap stops at high level are not damaged
Check that the door curtain feeds into the guide channels smoothly
Check end-plates fixing to building structure are secure
Check bearing grub screws and key-ways are all secure
Check all mechanism/angle/guide fixings are secure
Check and lubricate drive chain if necessary
Check shutter housing is securely attached
Check motor cable is securely attached and away from moving parts
Check operation of manual override mechanism
Check operation of manual override electrical interlock
Check door travel limits. Check correct operation of control system
Check correct operation of safety system if fitted
The service includes the submission of a complete engineers report, detailing the general condition of the shutter(s) / door(s) and appropriate recommendations for repair(s). Any issues relating to potential Health & Safety Hazards will be reported immediately
Helping our customers to follow mandatory regulations - The Machinery Directive implemented in the UK by the supply/service of Machinery (safety) Regulations 2008, as amended by the supply/service of Machinery (Safety) Regulations 2011. These regulations are enforced by the HSE in Great Britain. Ensuring the Health & Safety of all employees/personnel or persons operating or in the vicinity of roller shutters or doors. Service work is per site/premises/property with subsequent doors at the same site/premises/property. Excludes parts. Open access to the shutter / door is required for us to carry out the service. See: Terms & Condition's - Conditions of sale.